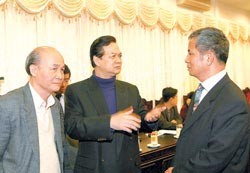 PM Nguyen Tan Dung (C) discusses with the Presidium of the VGCL.
Prime Minister Nguyen Tan Dung asked local trade unions to promote their role in enterprise operations by becoming shareholders of those enterprises that become listed on the stock market.
Speaking with the Presidium of the Viet Nam General Confederation of Labor (VGCL) yesterday, the Prime Minister encouraged trade unions to purchase over 5% of an enterprise's value once it is listed on the stock market.
Also at the meeting, Mr. Dung highly praised the contribution of the confederation towards the country's achievements, pointing out that it should continue to coordinate with other relevant ministries and sectors to harmonize the tripartite interests of the nation, businesses and workers. He also called on employers to ensure health insurance cards and social security is in place for all their employees.
The Prime Minister called on the Ministry of Planning and Investment, the Ministry of Construction and other relevant agencies to take into consideration the shortage of accommodation for laborers whilst carrying out all approved projects. He said the issue will be discussed in detail at the 6th congress of the Party Standing Central Committee.
According to VGCL Chairman, Dang Ngoc Tung, only 2% of workers in industrial and export processing zones live in houses built by employers or trade unions.