Labor export is considered a necessary strategy to quickly alleviate poverty in the provinces of Ben Tre, Vinh Long, Ca Mau, Soc Trang, etc., where a lot of unemployed poor people live because there are not enough jobs.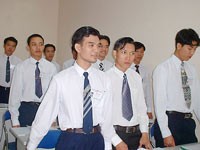 Ben Tre province's laborers study Japanese language before going to Japan to work. (Photo: C.T.)
Encouraging thousands of laborers to work abroad has decreased poverty and unemployment rapidly in those provinces.
Dong Thap province sent the highest number of laborers abroad with over 4,000 people. Ben Tre and Vinh Long provinces sent totally 5,000 laborers. Although the provinces of Kien Giang, An Giang, Ca Mau and Soc Trang were late, they also sent thousands of laborers abroad.
The Mekong Delta provinces plan to dispatch about 10,000 laborers in 2006. With a per capita income of about US$400 per year, the Mekong Delta provinces consider labor export "one of the solutions" to helping poor people and rural folks escape poverty and improve their lives.
When 1,000-2,000 people work abroad, they can send foreign currency earnings back home to their relatives. This amount does not only enriches their family but also contributes to their province's social budget.
Dong Thap province has a Labor Export Fund of VND15 billion (about US$940,000) to grant poor people a loan to cover employment fees. Thanks to this fund, over 4,000 people have gone overseas to work.
To avoid risks for the workforce overseas, Dong Thap province has cooperated with prestigious labor export companies to recruit laborers right at the doorstep. The province also established a foreign language and consultant center. Therefore only 100 laborers of the province had to return home before the end of contract due to health or other problems.
Investment in labor export will bring about double benefit, said Mr. Ha Thanh Hung, Director of the Labor, Invalids and Social Affairs Ministry of Viet Nam. Besides creating work, generating income and alleviating poverty, working abroad helps rural workers acquire knowledge, improve their skills and have a better life after returning home.