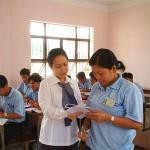 Learning Korean before working abroad (Photo: Khanh Binh)
Over nine thousand Vietnamese laborers, accounting for 85% of candidates, have been sent to the Republic of Korea (RoK) after one year operating in accordance with the host country's new law on foreign labor.
In addition, more than 3,000 Vietnamese are attending job - on - training courses in Korea, which increases the number of Vietnamese workers up to 12,500 in 2005.
Korean enterprises highly appreciated workers from Vietnam, affirming that they have gained a majority in the RoK foreign labor market.
However, Vietnamese guest workers should learn the Korean language, which is essential to help them not only deal with possible problems they may face with the employers but also get promoted at work, according to Dao Cong Hai, Counselor and Head of the RoK-based Vietnamese Embassy's Labor Management Board.
In 2006, the RoK government will increase labor-exporting countries from 6 to 12, which increases competition for Vietnamese.
Greater attention should be paid to quality not quantity from now on so that Vietnamese guest workers can have more chances to work abroad.