High levels of redundancy and labor division between rural and urban areas are major problems facing Vietnam's labour market, a conference in Ho Chi Minh City heard last Thursday.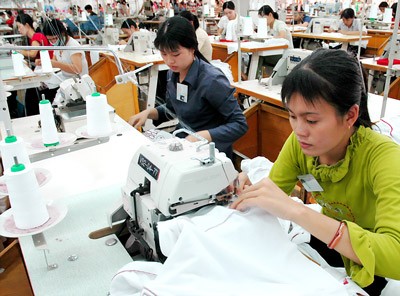 Workers at a garment company. (Photo:SGGP)
The conference to discuss the next ten-year national labor market development strategy (2011-2020) was organized by the Ministry of Labor, Invalids and Social Affairs (MOLISA) and the International Labor Organization (ILO) in Ho Chi Minh City.
While it played a decisive role of the national economy, the State-owned sector contributed just 34 percent of the GDP and used 10 percent of the country's total workforce, participants said.
They also mentioned the low ratio of skilled workers and underemployment as other problems that need to be tackled effectively in the next plan.
The predominance of agricultural labor in the country was seen as evidence of the low quality of the labour market. In 2008, the country had 1.43 million underemployed people, of whom 1.4 million were from rural areas.
Participants at the meeting noted that the cheap labour cost that has helped Vietnam be competitive in international markets was also a problem. Minimum and basic salaries in the country could only meet 60-65 percent of basic living costs, they said.
The quality of human resources in the country was failing to keep up with market demand. In 2009, skilled workers made up just seven percent of the entire labour force.
The labor market has revealed other weaknesses relating to the legal framework, dialogue mechanisms, labour security and flexibility, social welfare and support for vulnerable groups, the meeting heard.
The Ministry of Labor, Invalids and Social Affairs has forecast that the nation's workforce will grow by almost 500,000 in each of the next 10 years, bringing the total number to 53.14 million by 2020.
The national labor market development strategy for the 2011-20 period targets reducing the proportion of rural labour from the current 51 percent to 31 percent and increasing that of skilled labour to 58.5 percent.