Environmental pollution and a labor shortage are the two challenges currently facing the export processing zones (EPZs) and industrial zones (IZs) in the Mekong Delta region.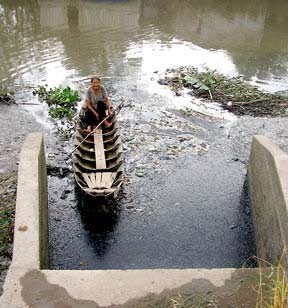 Water turns grey in an arroyo near the Tra Noc Industrial Zone in Can Tho City
This conclusion was drawn at a symposium on Friday entitled "Developing EPZs, IZs in the Mekong Delta: Prospects and Challenges" held in the southern province of Long An.

Delegates listened to more than 50 reports and speeches delivered by managers, scientists and researchers who are knowledgeable about the practical features of the Mekong Delta region.

The majority of the speakers agreed that the labor shortage and the environmental pollution created by EPZs and IZs have reached alarming levels.

One report noted that only 21 out of the 113 EPZs and IZs have a waste water treatment system in place.

The region has approximately 85,000 industrial manufacturing units, employing around 300,000 laborers. Meanwhile, the rate of students attending vocational training classes in the Mekong Delta is the lowest when compared to other localities in the country.

At the moment, only 17 percent of laborers are appropriately qualified while 83 percent of laborers have yet to be trained.