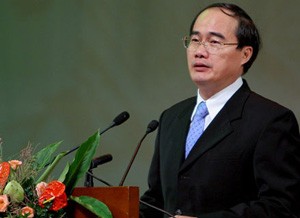 (File) Deputy Prime Minister Nguyen Thien Nhan
Hanoi — Deputy Prime Minister Nguyen Thien Nhan said ministries and localities must be more active in predicting labour supply and demand at all levels, and their human resource planning must play a central role in the country's economic planning.
He made the request during an online meeting with 63 provinces and cities, and ministries and agencies on vocational training and human resource forecasting until 2020.
The more the economy developed, the higher the demand for workers was and the shorter the supply, Nhan said. The country's development required specific and feasible human resource development strategies, he added.
But ministries and localities had not paid enough attention to the issue, Nhan stressed.
He gave an example: by 2015, enterprises in the Vung Anh Economic Zone in the central province of Ha Tinh would need 35,000 workers, but it would be difficult for them to recruit such a large number.
Duong Duc Lan, deputy director of the Department of Vocational Training under the Ministry of Labour, Invalids and Social Affairs, said the shortage of labour could be seen in market research, marketing, electrical engineers, processing and service sectors.
Technical workers in agriculture, forestry, fisheries and mechanical engineering were in serious short supply, he added.
To solve the problem, Nhan said enterprises needed to define reasonable wages and localities should set aside land funds to build houses for workers.
These were critical issues that would help workers focus on their long-term prospects, especially those in key economic zones, he said.
A lack of an appropriate workforce must not act as a brake on economic development, Nhan stressed.
Deputy Minister of Education and Training Bui Van Ga said besides predictions related to unskilled and technical workers, it was also necessary to forecast the demand for professionals with university and post-graduate qualifications.
Ministries and localities must take into account the development speed of the science and technology sector and its effect on demand for labour to have precise forecast, Ga said.
Deputy director of the ministry's Employment Department Nguyen Thi Hai Van said:"For a long time, we just paid attention to foreseeing labour supply but not demand. This has left many vocational schools confused about what kind of vocational training they should offer as priority."
Nhan asked ministries and localities to conduct research and rapidly establish forecast centres, as well as issue suitable employment policies regarding wages and housing in order to attract talented people.
He asked the Ministry of Planning and Investment by August 31 to have issued detailed guidance to help other ministries and localities develop human resource planning.
In November this year at the latest, ministries and localities must have a human resource plan for the 2011-15 period and orientation until 2020 prepared so that a human resource master plan could be submitted to the Government by December this year.