With land erosion across the country over recent years having become a serious threat to residents' lives and property, many of HCM City's landslip prevention projects are slow in progress or awaiting funds. Some completed projects have already become cracked and worn away, causing losses of billions of dong.
According to the city's People's Committee's flood prevention and natural disaster alleviation plan in 2009, districts 2, 7, 9 Nha Be, Can Gio, Binh Thanh, and Thu Duc should increase the speed of progress, as well as having regular checks and upkeep embankments.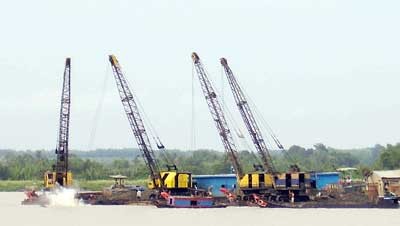 Despite of the government's ban, barges still dredge sand in Dong Nai River, causing critical landslips (Photo : SGGP)
However, some local district administrations along the rivers Sai Gon, Dong Nai, Tac, Soai Rap, Muong Chuoi, Rach Tom only plant warnings to people of landslip-prone roads or areas where erosion prevention construction is slow or awaiting funds.
The city's Department of Transport authorized 21 landslip prevention projects. Of those, one project in Thanh Da canal was completed earlier this year, two others are in progress, six have yet to get underway and 12 are awaiting funds.
A lack of money has slowed projects. Two bridges in Phuoc Long and Rach Tom in Nha Be District have been built very slowly with few funds forthcoming.
The deputy head of Nha Be's flood prevention steering board, Vu Minh Chau, said although the erosion problem has increased alarmingly with six cases in June, sweeping away 10,000 square meters of land and tens of houses into rivers, projects are run slowly and residents in such areas live in fear of more destruction.
In the short-term, dykes are shored up to cope with the problem but cannot last long.
Embankments built to prevent landslips along the Kinh Lo River in Nha Be have been worn away gradually, with some long cracks seen on the surface. 
The local government had to evacuate 73 people from the dangerous areas. The situation is similar at Hiep Phuoc wharf.
The designs of these embankments are also not great, as the cracks have soon appeared after completion, causing losses of billion of dong, said Mr. Chau.
He has petitioned to set up community inspection, including residents and workers, which must present construction designs before being built.

Related article;
Officials struggle to halt illegal sand dredging