The Dong Nai River, which provides water for 16 million residents in 12 southern provinces and cities, is slowly dying of pollution. Leaders have failed to enforce protection policies while funding for cleanup efforts was last proposed several years ago.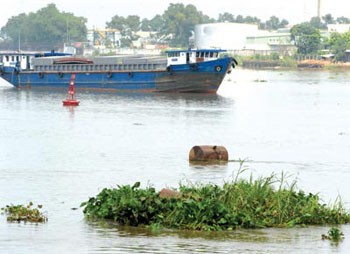 The polluted Dong Nai River which supplies water to more than 16 million residents in Southern Vietnam. A proposed project to clean up the waterway has failed to get off the ground. (Photo: SGGP)
In 2005, the Ho Chi Minh City Environmental Protection Agency proposed relevant agencies spend VND1 trillion (US$54 million) to clean-up and protect the river. But to date, no action has been taken.
Hoang Duong Tung from the Center for Environmental Monitoring, Data and Information said the Dong Nai River valley is exposed to effluent from 10,000 industrial production companies, and 70 industrial zones (IZ)s and export processing zones (EPZ)s.
The river, which also supplies water to the area's agriculture production and aquatic farms, is poisoned with 600,000 cubic meters of industrial wastewater a day.
In addition, the river receives millions of cubic meters of harmful wastewater from mineral exploitation, households, health centers, trade villages, garbage dumps, agriculture and aquatic farming.
Of these, the most worrying problem is wastewater from mineral exploitation of metals in Lam Dong and Dong Nai provinces; of nonmetals in Binh Duong, Dong Nai and Long An Provinces and HCMC; and of bauxite and gold in Lam Dong and Dac Nong provinces.
Most of these mines are opencast and use primitive means of operation.
Lives in jeopardy
According to the General Department of Environment Protection, the polluted river negatively affects residents' livelihoods and more alarmingly, their health.
High levels of metallic waste and harmful pesticides have been found in many species living in the river and surrounding plants.
These substances accumulate in humans as well, and can lead to sudden gene mutations, a host of diseases including cancer, and even death.
Associate Professor and Doctor Nguyen Van Phuoc from the Natural Resources and Environment Institute said there is a great deal of anecdotal evidence of  "cancer villages" in Vietnam. These communities, usually exposed to high levels of environmental toxins, have reported similarly high levels of cancer cases.
Most residents are unaware, however, of the disastrous effects of pollution on their health.

Protection project fails to take flight
Professor Lam Minh Triet, head of the HCM City Environmental Protection Agency, said a 12-point project to protect the Dong Nai River was proposed several years ago.
Accordingly, the first measure was to set up the Dong Nai River Environment Protection Committee chaired in turn by the 12 provinces and cities' People's Committees chairmen.
Total capital for the clean-up effort from central and local budgets and businesses, proposed in 2005, was about VND1 trillion (US$54 million).
The project was approved by the Government in 2007, however, none of the provinces or cities stepped up to participate in the process.
Today, pollution levels in the river have skyrocketed. Numerous IZs and EPZs have sprung up and continue to contaminate the water. Thus, the 2005 cost estimate of cleaning up Dong Nai River would likely be inadequate now.

Related article:
Dong Nai River on verge of death