The plan for the relocation of people who have been displaced by the Son La Hydropower Project has been implemented poorly, causing difficulties to displaced people, commented a supervision team of the National Assembly.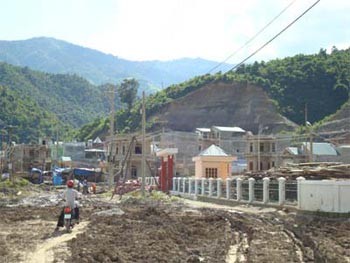 A part of the Nam Can resettlement area, built in Muong Lay town, Dien Bien Province, to accommodate households displaced by the Son La hydropower project.
The team leader, K'Sor Phuoc, chairman of the Council for Ethnic Minority Affairs, made his comment at a two-day meeting, which ended February 5, between the team and representatives of ministries and agencies concerned.
During the inspections conducted at many resettlement areas, the team found that some of them have incomplete infrastructure and have yet to meet necessary conditions in terms of culture and  customs. As a result, people living there face many difficulties.
Agencies blamed problems caused by obstacles facing them in the implementation of relocation policies.
But the team complained that they had not fulfilled responsibilities, failing to report immediately to the Government and National Assembly about any obstacles. 
From 10 -16 February, the team will take a working trip to Dien Bien, Son La and Lai Chau provinces to inspect the implementation of the relocation plan and will make a report to the NA for consideration.
One of the key national projects, the Son La Hydropower Project was started in 2003 and is expected to be completed in 2012 with a capacity of 2,400 MW.
As many as 100,000 people from nearly 20,000 households, of which 94.4 percent are ethnic minorities, have been subject to resettlement to make way for the project.