A shortage of equipment and personnel to cope with the central region's frequent storms has long afflicted Vietnam. Despite the heroic efforts of residents and officials to help storm-hit communities, experts say there remains a dire lack of resources.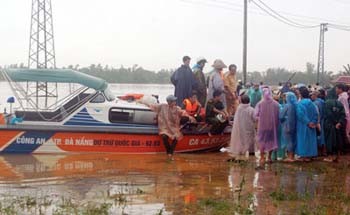 Central residents say they need more rescue vessels to save lives during storms. (Photo: SGGP)
During Typhoon Mirinae in early November, Binh Dinh Province Steering Committees for Flood and Storm Prevention banned fishermen from going out to sea, but some residents ignored the warning.
At 5am on November 2, Ho Ky Thoi from Quy Nhon town and three other fishermen rowed their small wicker boats out to the ocean in hopes of catching fish.
Later that morning, the storm's winds intensified and blew Thoi's boat far from the shore. Local residents, police and army officials watched helplessly as he floated farther and farther away.
Despite the desperate pleas of his wife, Nguyen Thi Anh Nguyet, rescue boats were simply unable to help Thoi due to the violent weather. Two days later, the fisherman's body was found 2 km away at Quy Hoa Beach.
The typhoon also led to floods along the province's Ha Thanh River valley causing severe damage.
Binh Dinh Province's People's Committee reported that on the night of November 2, it mobilized motor boats and armored cars together with 1,000 officials, soldiers and police to help residents.
The Committee said they were unable to reach many flooded areas, however, due to the large volume of swift-flowing water. Unable to save many lives, officials learned of heart-wrenching stories of death and destruction for weeks after the natural disaster.
Resident Nguyen Loi family's from Tran Quang Dieu Ward was marooned by the floods and had to subsist on uncooked instant noodles and rainwater for two days straight.
On November 4, Loi attempted to row his wife and daughter to the foot of a mountain for fresh water. But their boat capsized and he was the only survivor.
Earlier in Quang Ngai Province, Typhoon Ketsana was forecast in late September not to make landfall. Authorities only evacuated some households and did not prepare thoroughly. As a result, the storm left 27 dead and caused VND5 trillion (VND270 million) in damage.
Residents left to their own devices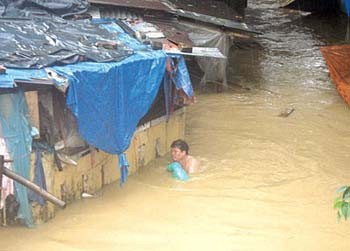 A man in Thua Thien-Hue Province struggles to stay afloat during a flood in Vietnam's storm-battered central region. (Photo: SGGP)
During Typhoon Mirinae, An Ninh Tay Commune in Tuy An District, Phu Yen Province asked for a motorized rescue boat but the district said it couldn't afford one.
The commune was forced to build its own vessel and saved 50 people in a single night.
Bien Minh Tam, deputy head of the provincial Steering Committee for Flood and Storm Prevention and Search and Rescue, said rescue forces have met with many difficulties.
Tam said there was a lack of modern equipment and facilities, and that these failed to meet requirements. Rescue operations were further complicated by the region's challenging terrain, Tam added.
Search and rescue operations in the neighboring province of Binh Dinh also struggle to carry out work in poor weather.
The Government on November 6 gave the province two more modern motor boats, but they are able to carry just 10 people each and can only operate in level-7 winds or less. Meanwhile, the central region usually sees storms with winds at level 12 or higher.
Thua Thien-Hue, one of the most flood-prone provinces in the region, has asked the National Steering Committee for Search and Rescue for two additional rescue vessels, five motor boats and 4,000 life-jackets.
However, to date the province has only received 1,000 round floating devices.
Residents have relied so far on the army, with its 14 motor boats and 2,000 floating devices, to carry out rescue operations.
But the army's resources are far from meeting demand for the area's eight districts and Hue City with 1.1 million residents on an area of 5,100 square kilometers.
Director of the Maritime Search and Rescue Coordination Center based in Danang City, Tran Van Long, said that his rescue vessels could not head for sea with winds over level 10.
In addition, the center has just three vessels operating on a wide area from Quang Binh to Ninh Thuan provinces, and thus it is very difficult to save residents in remote areas, he said.
Whenever there's a storm, each central province sets up a steering committee for flood and storm prevention, which usually disbands after the disaster is over.
The Flood and Storm Prevention Center for the central and Central Highlands regions mainly compiles and reports conditions to the central Government.
The center's director Van Phu Chinh stressed that human resources for storm and flood prevention are lacking while rescue equipment is extremely inadequate.
Related article:
Storm-hit residents face uphill battle