A lack of safety awareness by workers and contractors without proper skills and poor construction management were cited as reasons for three accidents that killed four workers and injured three during construction of the 70-story Hanoi Landmark Tower, said the city's Department of Construction on August 3.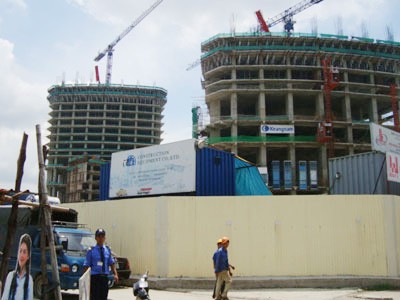 The construction site of the Hanoi Landmark Tower project. (Photo: VNN)
According to the department's deputy director, Bui Van Chieu, the workers were not trained to use modern equipment, with the construction plan not approved by the main investor before building commenced.
The workers had not received proper safety training and lacked skills, inspectors said, adding that they had ordered the investor and contractors to review the ability of their workers, supply appropriate safety gear and run a safety training course.
The construction site of Vietnam's tallest building was rife with poor safety issues, including no health checks, unregistered equipment and an absence of safety regulation notices, Mr Chieu said.
The construction department instructed its inspectors to fine the project's main investor, South Korean corporation Keangnam, Mr Chieu added.
The construction of the Hanoi Landmark Tower project began in 2007, at a cost of US$1 billion, the biggest project in Hanoi at that time.