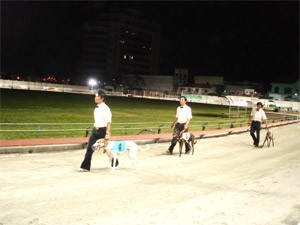 Greyhound racing in Vung Tau could become a hotspot of legal gambling (Photo: Uyen Phuong)
Ladbrokes is waiting for the Vietnamese government to approve the UK-based bookmaker's US$60-million project to set up a sport betting system over here.
Ladbrokes CEO John O'Reilly flew into Ha Noi yesterday hoping to speed up the process, which is being hindered by the fact that Viet Nam does not officially tolerate gambling by its citizens,
Mr. O'Reilly described Viet Nam "as a small market for sport gambling but with a lot of profit" and said sport in Viet Nam would benefit from his company's presence.
He added that after gambling was allowed in Viet Nam, what local gamblers would need was a complete and transparent betting operation so they could see where their money went.
"In England, the taxes on betting last year brought GBP3 billion to the government. The figure is US$8 billion in the US. I think it is too early to make any prediction about gambling in Viet Nam now. However, only strict regulations can persuade a gambler to bet. In my country, gambling firms actively cooperate with the government to make betting regulations by using their own experience," O'Reilly said.
Ladbrokes will provide a consultative service to ensure gamblers only bet within their financial means, according to O'Reilly. He also believes that legalized sport gambling will be widely received over here.
He added that the maximum limit per gambler per sporting event in Viet Nam would be VND450,000 (about US$30).