Laid-off workers in Viet Nam now for the first time can get their unemployment pay, one year after the new insurance policy officially took effect.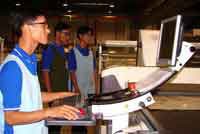 Under the policy, laid-off workers will also be supported to take vocational courses free of charge and introduced to new jobs.
According to the Ministry of Labor, Invalids and Social Affairs (MOLISA), people eligible to claim unemployment pay are those who have paid their premiums for at least 12 months and have signed up with a local job centre or a registered office for unemployment benefits seven days after losing their jobs.
Under the policy, laid-off workers will also be supported to take vocational courses free of charge and introduced to new jobs.
To ensure things run smoothly, MOLISA's Employment Department, last November, organized training on premium collection and insurance pay for staff at local social insurance agencies.
Ho Chi Minh and Da Nang are the two cities where the new insurance program has been running well.
Deputy director of the HCM City Department of Labor, Invalids and Social Affairs Nguyen Van Xe said that the city's laid-off workers would get their unemployment insurance pay through ATMs of Dong A Bank or at district-level social insurance agencies as of January.
Under a pilot scheme, HCM City's laid-off workers' unemployment insurance applications would go directly to the department and by-pass pre-assessments by it's Labor and Wage Division, Xe said.
"The simplified administrative procedures will reduce the time laid-off workers have to wait to receive unemployment dole by at least three days," he said. "It will take a maximum of 15 days to complete the procedures."
Five representative offices have been set up to receive unemployment applications in districts 7, Binh Tan, Hoc Mon, Thu Duc and Cu Chi, which have high worker populations.
HCM City has nearly 1.3 million workers joining the unemployment insurance policy, accounting for nearly one-third of the city's total, said director of the HCM City Job Centre Trinh Thi Quynh Chi.
The centre estimated that nearly 30,000 labourers quit their jobs and terminate employment contracts every month in the city so the centre would have to deal with an average of nearly 1,400 applications for unemployment benefits every day.
In Da Nang, more than 110,000 workers, accounting for 92 per cent of the city's worker population, have joined the unemployment insurance policy with a total premium of VND31 billion (US$1.7 million).
Mao Quoc Trung, deputy director of the Da Nang Job Centre predicted hi-centre wouldn't be busy in the next few days, given that the national economy is recovering and companies located in the province are now hunting for some 4,000-5,000 workers.
But deputy director of northern Quang Ninh Province Job Centre Nguyen Xuan Thanh was concerned his centre would be inundated with applications next week.
"Quang Ninh annually has 8,000-10,000 workers made redundant so I figure if only half of them fail to find new jobs and come to our centre at the same time, we will have to handle lots of work," Thanh said.
The unemployment insurance premium, which is as much as 3 per cent of the worker's monthly pay, is legitimately contributed by three parties: the worker, the Government and the employer, each with 1 per cent of the employee's salary.
Lieu Nhan Thanh, director of the Viet Nam Precision Engineering 1 Company based in northern Vinh Phuc Province's Khai Quang Industrial Park said his workers were happy with the unemployment insurance program.
"Some VND15,000 (8 cents) co-pay shouldn't be a burden for a worker earning VND1.5 million (US$80) per month, especially when they could get 60 per cent of three months salary if they are fired," he said.
Thanh claimed 100 per cent of his workers with contracts of a minimum of 12 months have joined the unemployment insurance scheme.
But not all companies share the same view.
The labor ministry says many businesses have managed to shirk the responsibility by signing labor contracts of less than 12 months with workers and in some cases, not signing labor contracts at all.
A recent survey targeting female workers conducted by the Foreign Trade University's Human Resources Development Co-operation Centre in co-ordination with the non-governmental organization, Action Aid, showed only 15 per cent of female workers had indefinite - term labor contracts, 24 per cent had contracts of less than 12 months and 10 per cent were without any contract at all.
Nguyen Thang Loi, director of Thanh Xuan District Social Insurance Agency in Ha Noi was worried about collecting the business part of the premium after the difficulties they had collecting social insurance fees.
"One per cent of the worker's pay is still a financial headache for some businesses, especially those in the red," Loi said.
According to MOLISA, some 30,000 employees lost their jobs in 2008, most of whom were unskilled workers working for foreign invested companies.
Until December 31, 2009, employers in Viet Nam were not legally required to provide unemployment insurance.
The Government's Decree No 127/2008/ND-CP dated December 12, 2008, supplemented by ministry Circular No 04/2009 on January 22, 2009 states that enterprises with 10 employees or more are required to provide unemployment insurance for Vietnamese employees who have signed labor contracts with a minimum of 12 months.