Da Nang City People's Committee signed with the central highlands province of Lam Dong in supplying safe agricultural products (safe agro-products) in the period of 2017-2020, yesterday.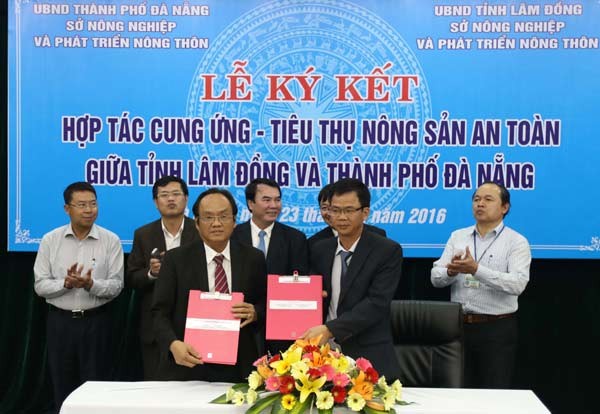 At the signing ceremony in Danang City
As per plan, from now till 2020, Da Nang and Lam Dong will build and develop safe agro- product chain, aiming to promote agricultural production in the central highlands province and protect Da Nang City's consumers.
Besides, it will strengthen the socioeconomic development cooperation between two locals; creating favorable condition for enterprises, cooperatives to develop models for safe food production.
Mr. Dang Viet Dung, Deputy chairman of Da Nang city People's Committee said Danang covers as little as agricultural areas and it is not to supply enough for the market while unsafe vegetable source is flocking to the city, therefore the city hopes this cooperation will ensure safe agro- products meeting the locality's consumption demands.
Mr. Pham S, deputy chairman of Lam Dong People's Committee said Lam Dong is home to many agricultural areas specializing in flower, vegetable and fruit growing and the province has been planning to produce safe agricultural chain with high technology, ensuring consumers' health in Lam Dong and Danang.