Farmers in the Central Highlands province of Lam Dong's Don Duong District are lamenting a dramatic recent price drop of fruits and vegetables.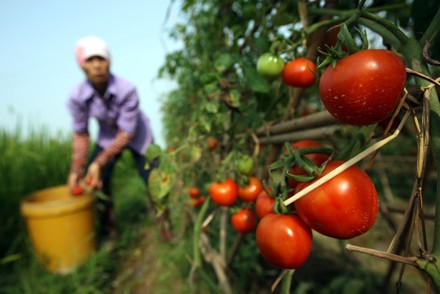 Farmers in Lam Dong Province are suffering big losses after the price of several types of produce has fallen drastically
Tomatoes, a mainstay of the district with a growing area of over 3,500 hectares, have plummeted from VND5,000 per kilogram to just VND700 a kilogram for the best varieties.
Many farmers say it is hardly worth picking the produce off the vines now as they can barely afford to pay workers.
Nguyen Quoc Huy from Quang Hiep village spent VND20 million (US$1,081) to grow tomatoes on 2,000 square meters, yet he earned just VND5 million after harvesting the season's first crop before prices plunged. Now he says he dares not spend more money picking additional tomatoes.
Prices of lettuce, Chinese cabbage and onions have also decreased. Farmer Nguyen Da was forced to recently sell 3.6 square meters of Chinese cabbage at very low costs to curb further losses.
Many traders are also upset after earlier purchasing vegetable gardens at high prices only to watch them drop in value.
Unusually good weather this year produced bumper crops of tomatoes in the North, the Mekong Delta and the central province of Phan Rang, Ninh Thuan, though farmers failed to profit as the market became saturated with the produce.
 
In 2008, the cost of tomatoes was high when fewer farmers grew the crop. The high costs, however, encouraged more people to start growing tomatoes and soon Don Duong District had more of the produce than it needed, leading to a fall in prices.
Farmer Nguyen Van Suu said Lam Dong farmers often grow vegetables according to market prices without careful consideration of long-term consequences. To increase productivity, farmers should also rotate crops to reduce diseases and improve the types of fertilizer used, Suu added.