The High Command of Military Zone 7 and Lam Dong Province donated a charity house to To Dinh Cam, one of the 34 brave fighters of the Armed Propaganda Unit for National Liberation--predecessor of the Vietnam People's Army.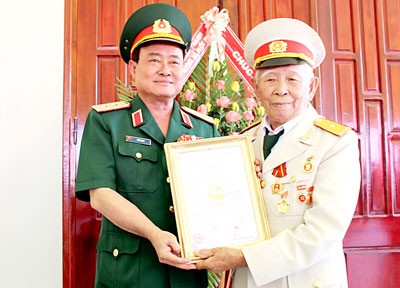 Lieutenant general Tran Don (L) and soldier To Dinh Cam in the new house
The cost of the 120 square meter house in Da Teh Town in Da Teh District in Lam Dong Province was VND400 million.
On this occasion, Senior Lt. General Phung Quang Thanh, Minister of Defense, sent a letter to congratulate To Dinh Cam and his family.
To Van Cam, given name To Dinh Cam and alias To Tien Luc, was born in 1922 in Tam Kim Commune of Nguyen Binh District in the northern province of Cao Bang.
In 1941, he joined in the Viet Minh movement and was proud to be among the 34 fighters to take an oath to establish the Armed Propaganda Unit for National Liberation in 1944 under the control of legendary General Vo Nguyen Giap.
He participated in many fights, was wounded, and in 1954 left the army.
Later, in 1992, Cam and his family moved to Lam Dong highland province to settle down there.