Mekong Delta Provinces have long vied with each other to attract foreign investments to develop industrial parks and zones, however inefficient planning has led to thousands of hectares of land lying abandoned and in a state of waste.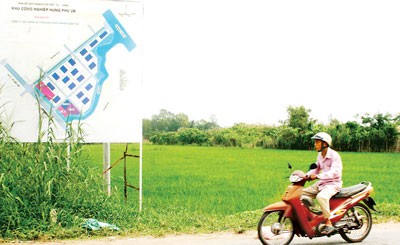 Farmers are currently growing paddy on land meant for Song Hau Industrial Park,(Photo: SGGP)
At present, the Mekong Delta has a total of 51 industrial parks and 200 industrial zones over an area of 25,000 hectares.
Nevertheless, only 20 percent of these zones and parks in Long An, Tien Giang, Vinh Long and Can Tho Provinces have been leased by enterprises.
Most of the industrial zones and parks are on hold because of delays in land clearance and thus unable to lure foreign firms.
Moreover, the land chosen for construction of these industrial zones and parks is fertile land along the banks of the Tien and Hau Rivers.
Farmers are thus furious at the lethargic progress of these projects for which they had to forgo their means of livelihood.
In all, farmers gave up 250 hectares for Thanh Loc Industrial Park in Chau Thanh District; 340 hectares in Chau Thanh District in Hau Giang Province; 63 hectares for Hung Phu Industrial Park in Cai Rang District in Can Tho City; 350 hectares for Dong Binh Industrial Park in Binh Minh Town in Vinh Long Province; and 120 hectares for Tran De Industrial Park in Tran De District in Soc Trang Province.
For now, the farmers are temporarily growing vegetables, fruits, and paddy on the unoccupied stretches of land.
Authorities in the above provinces are deciding to review all projects and take back the land where progress remains slow. The People's Committee of Can Tho City has decided to halt Hung Phu Industrial Park and take back 110 hectares of land.
Long An Province, with 470 projects and total registered capital of US$3.5 billion, has recovered 12 projects over an area of nearly 1,000 hectares. The government has given land back to the landless farmers for cultivation.
Why can the Mekong Delta not attract investors?
According to experts, infrastructure bottlenecks hinder investments to the region. Huynh The Nang, Deputy Chairman of the People's Committee of An Giang Province, said if the Dinh An Passage in Can Tho City, the most important gateway for incoming and outgoing ships on the Hau River, is widened for 20,000 ton cargo vessels, sea transport cost will decrease and investors will flow.
Le Van Banh, Head of the Mekong Rice Research Institute, said that there should be coordination in planning between provinces in the region, besides provincial authorities should not allot rice fields and other arable land for industrial parks and zones.
According to statistics, it costs VND4 billion (US$ 189,800) for a hectare for industrial construction. Therefore, around 10,000 unused hectares of land in provinces and cities in the Mekong Delta will cost tens of thousands of billion dongs over a period of several years. So who will bear responsibility for this waste?