Prime Minister Nguyen Tan Dung asked the Ministry of Natural Resources and Environment on Tuesday to improve the way land resources are managed in order to strengthen the country's economic situation.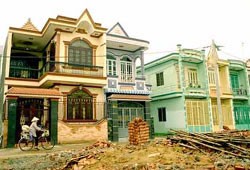 Land resources should be used effectively

Addressing the first national conference, held by the Ministry in Ha Noi to review environmental and natural resources management issues, PM Dung noted that prolonged petitions by the public related to expropriation disputes are often related to unreasonable compensation prices and corruption among public employees.

He said local and central governments should not expropriate private property arbitrarily but only when necessary for public works or security requirements.
He also noted that compensation should reflect market values, an opinion shared by Minister of Natural Resources and Environment, Mai Ai Truc.

A report by the Ministry shows the current price of land set by the government is often only 50-70% of market values – a situation which often leads to corruption within the sector.
Provincial and municipal representatives defend those rates by noting that cheap land is a good way to attract investment. "The ministry will gradually try to adjust land prices", Mr. Mai Ai Truc promised.

PM Dung said the Ministry has submitted a series of legal documents to the government which will be presented to the National Assembly for approval.