By Wednesday afternoon, the landslide along the Tien River bank continued to broaden sideways and further into the mainland in Phu An Commune of Phu Tan District, causing much anxiety for leaders in An Giang Province.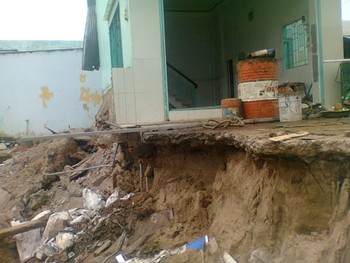 A house at the brink of falling into the river in Binh Khanh Ward in Long Xuyen Town (Photo: Thanh Nien)
Leaders in the Mekong Delta province of An Giang met on Wednesday to discuss ways to contain the landslide, which is broadening its base along the Hau and Tien Rivers.
So far, seventeen households have been evacuated while 14 adjoining, but as yet intact, houses have been demolished, to reduce pressure on the riverbank.
Several new wide cracks have appeared, with some only 5 metres above Road 954, threatening to cut off the route.
On the same day, Hau River bank in Binh Khanh Ward of Long Xuyen City kept sliding further into the water. 27 households have so far been removed and most of them are temporarily living in primary school buildings while new resettlement houses are made ready.
Besides the two above spots, landslides have also occurred along several riverside areas in Cho Moi and Tan Chau Districts.
At a meeting, Vo Anh Kiet, deputy chairman of the People's Committee in An Giang Province, issued an emergency warning for Phu Tan District.
He also instructed the provincial Department of Natural Resources and Environment to issue emergency warnings in several other localities in the province.
The province authorities have agreed to take sand deposits from the other side of Tien River to fill eddies in the landslide zone in Phu Tan District.
Local authorities are also considering opening a new stretch of road for vehicles to ply on, instead of Road 954, as it is most vulnerable to landslides. They also plan to build a new resettlement area for residents along the 2.2 kilometre stretch of the river bank that is most susceptible to landslides.