Landslides have continued to occur in many areas of the Mekong Delta causing severe damage to the property and livelihood of residents.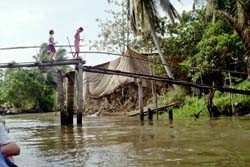 Rising water level in a Mekong Delta canal
The Flood Prevention, Control and Rescue Committee has requested local authorities help to support affected families in overcoming their difficulties whilst implementing plans to prevent similar incidents.

The authorities of affected provinces forecast that rising water levels in August and September will likely cause further landslides in the area. The building of solid embankments along the riverbanks is the authorities' only known effective preventative solution.

Immediate action by Dong Thap Provincial authorities involves building embankments at a cost of over VND 160 billion (approximately US$ 10 million) at the border of Tan Hong and Hong Ngu, and in Sa Dec Town. There are also plans to build further embankments in Lap Vo and Hong Ngu Towns, at a total cost of VND 215 billion (approximately US$ 14 million).

Tien Giang Province recently spent VND 3.2 billion (approximately US$ 2 million) on the Go Cong coastal embankment and for preventative measures in Cai Be and Cai Lay districts.

In Bac Lieu Province, the estimated cost for new embankments in Ganh Hao is over VND 250 billion (approximately US$ 16 million) but due to financial shortages, just VND 20 billion (approximately US$ 12.5 million) has been spent on compensation for housing clearance.

In recent years, Mekong Delta provincial authorities have spent large amounts of money on landslide prevention; however, the landslides are now becoming increasingly dangerous.

Experts suggest that local authorities ban the exploitation of sand, check embankment quality, reduce construction along the riverbanks, and research into the water flow of the various canals and rivers in order to find suitable solutions for each area.