Due to cold spell of air circulation, the mountainous northern provinces experienced heavy fall of rain, flood and landslides, causing six deaths and losses of vegetables.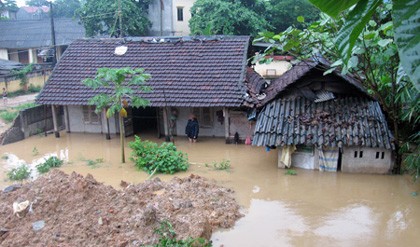 Torrential rains leave some houses  in the northern mountainous provinces s submerged beneath muddy water ( Photo:Hanoimoi)
The mountainous bordering provinces Ha Giang has seen five deaths of district Yen Minh residents after it had torrential downpour on two days, July 23 and 24.
Torrential rains over this week have swamped many hectares of farmland, flattened or blown away fourteen houses left 18 homes submerged beneath muddy water.
In addition, the bridge Ban Muong and irrigation constructions were destroyed. The estimated damages are worth VND12 billion.
Traffic on the roads connecting the district Yen Minh and communes had slowed to a crawl meanwhile cascading soil and rock closed the section of Highway 4C and 279. Many roads have been severed due to landslides; maintenance crews mobilized all machines and called for help of local youths to clear and repair these stuck roads.
In the northern province of Lao Cai, another landslide claimed the life of three year old Vang Thi Lau who was swept away and not yet found, bringing the death toll up to six.
The meteorologists said the Hong River has reached the first-stage warning level and it could rise in the next time. The meteorology office also warned residents in the nearby rivers, mountains to remain vigilant against possible landslides and flood.
The Cao Bang province People's Committee called for help to flood-struck residents.