On June 30, another landslide occurred at Thanh Da Canal in Binh Thanh District of HCMC, causing the land behind two houses on Xo Viet Nghe Tinh Street in Ward 26 of Binh Thanh District to fall into the canal and increasing the number of houses damaged by landslides to 15.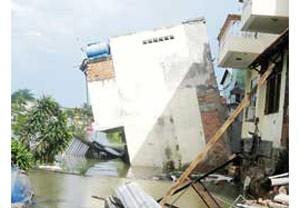 Landslide in Thanh Da canal

Thanks to precautionary measures, this second incident did not cause much damage to the residents' property. The local authorities salvaged a motorcycle, a fridge and a television from the bottom of the canal.

At the scene, many long 40-centimeter-wide cracks continued to appear, tearing many houses and spreading from 7 to 10 meters into the land.

After the incident, Nguyen Trung Tin, Vice President of HCMC People's Committee, immediately came to the scene to give direct, concrete guidance in moving residents out of the dangerous area. To protect residents from similar incidents, he urged the Department of Electricity to cut off power in the area. He also requested the authorities to provide accommodation for the residents.

Tan Xuan Bao, Vice-President of Binh Thanh District, said the authorities had already announced the danger of landslides in 10 sections around the district and they had moved all residents to safety. In addition, they provided the flats and the rent for homeless families.

To prevent similar incidents in low tides, the authorities requested the Department of Design and Construction to pull down houses over two floors high.

In related news, at 2am on July 1, a severe landslide occurred at Dong Phuoc Commune in Hau Giang Province's Chau Thanh District, sweeping away 7 houses and leaving 11 others in need of moving immediately.

Recognizing the dangerous spread of a ten-meter crack of last month to nearly 100 meters now, the loacl authorities had immediately urged the residents to move to safe places, helping reduce the damage of the incident. However, the damage was estimated at about VND 1.1 billion (approx US$62,500).

After the incident, the authorities came to the scene to help the residents. The families with lost houses were given accommodation in a school and each was given VND 3 million.

There are five affected areas in the Dong Phuoc Commune and the local authorities have made plans to supply accommodation for the residents in an attempt to ease their difficulties.