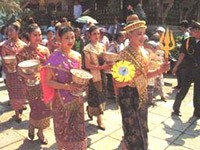 Traditional music perfomance in the new year
Representatives of the Ho Chi Minh City (HCMC) Committee of the Communist Party, People's Council and People's Committee, on April 13, paid a visit to Lao Consulate General in HCMC to welcome the Lao New Year 2006 (Boun Pimai).
On behalf of Vietnamese people, Ms.Pham Phuong Thao, Deputy Secretary of Municipal Party Committee and Chairwoman of the HCMC People's Council, sent best wishes and hope for further achievements to Lao people under the leadership of Lao People's Revolutionary Party (LPRP).
The two sides also promise to strengthen the relationship between the two nations.
Lao Consul General, on behalf of the Lao People's Democratic Republic, expressed his deep gratitude for the contribution and assistance of the Ho Chi Minh City authorities to Lao people working and studying in HCMC during the past years.
The same day saw a courtesy visit led by Director of HCM City Foreign Services Department Le Quoc Hung to Cambodian Consulate General in HCMC.

The Director and the Consulate General express their pleasure at the constant development of traditional friendship and cooperation between the two cities, HCMC and Phnom Penh, and the two nations alike.