Microsoft signed a service agreement with the northern province of Lao Cai's Department of Information and Communication yesterday to help set up an e-government system in the province.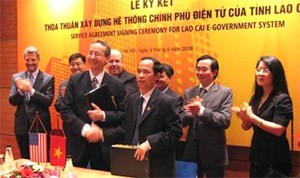 At the signing ceremony
This will allow the worlds' biggest software maker supply the province with advanced e-gov solutions and support to transform its current website into a portal, providing improved channels for those wanting to access public information and services.
 
During a one-day visit to Viet Nam yesterday, Microsoft's chief operating officer, Kevin Turner, said "This will be an outstanding example of how to do governmental work electronically."
 
Turner said he was impressed with the Vietnamese Government's effort in expanding the national economy, in particular the ICT industry.
 
Microsoft will work with Lao Cai's Department of Information and Communication to design and implement Microsoft's e-gov solution, Connected Government Framework (CGF).
 
The CGF is based on the Government Gateway used in Britain since 2001. Romania, Taiwan, Bulgaria and Egypt have also adopted the system.
 
The first version of Lao Cai's portal will offer a "Question/Answer" service, which enables people to clarify legal guidelines and regulations online.
 
Another online service "Business License Registration" will allow firms to submit applications for licenses, and also to track their progress.
 
Chairman of Lao Cai's People's Committee, Nguyen Huu Van, said "Once operational, the e-gov system will change the way we work, from cumbersome paperwork to a more efficient online system."
 
Meanwhile, Microsoft officially launched its Windows Server 2008, Visual Studio 2008 and SQL Server 2008 products in Ha Noi on Tuesday.
 
The following day it inked an Enterprise Agreement (EA) with the Industrial and Commercial Bank of Viet Nam.