Mr. Thongloun Sousilih, Deputy Prime Minister of Laos, on Monday expressed his appreciation at the contributions made by Vietnamese investors in the development of Laos and said that Laos would now  welcome more investors from Ho Chi Minh City.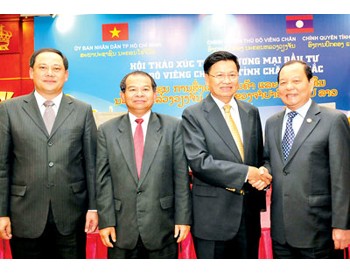 HCMC Party Committee Secretary, Le Thanh Hai (R) and deputy Prime Minister of Laos, Thongloun Sousilih shake hands at the seminar on July 16 (Photo: SGGP)
Speaking at a seminar hosted by the City on trade and investment in Vientiane and the Champasak Province of Laos, Mr. Thongloun Sousilih proposed that the two sides discuss investment prospects and what the Lao Government can do to facilitate this further.
The investors should determine which field and where they want to invest in Laos that will be beneficial to both sides, he said.
Present at the seminar were Mr. Le Thanh Hai, Secretary of the HCMC Party Committee; Le Hoang Quan, Chairman of HCMC People's Committee; Soukanh Mahalath, Secretary of the Lao Central Party Committee and Mayor of Vientiane; Sonsay Siphandon, Mayor of Champasak; and representatives from 150 Vietnamese and Lao enterprises.
  
According to Nguyen Thi Hong, deputy chairwoman of the HCMC People's Committee, the two-way trade turnover of Vietnam and Laos reached US$734 million in 2011, up by 50 percent over the previous year.
The turnover hit $135.8 million in the first quarter of 2012 alone, up by 66.6 percent over the same period last year.
The two country leaders have agreed to increase the bilateral trade turnover to $1 billion in 2012 and $2 billion by 2015.
Vietnam is ranked the second biggest investor in Laos with 424 projects worth $3.57 billion. HCMC alone has 35 businesses licensed with total investment of $300 million.
At present, there is no Lao business that has invested in HCMC, Mrs. Hong said. She hoped that after the seminar, Lao enterprises would find opportunities to invest in HCMC, as the City is always willing to receive Lao investors, she stressed.
Mr. Le Thanh Hai hoped that businesses participating in the seminar will obtain more information on investment policies and prospects in Laos as well as in Vientiane and Champasak Province. 
He hoped that enterprises of the two countries would take advantage of the seminar to establish long-term and effective cooperation ties.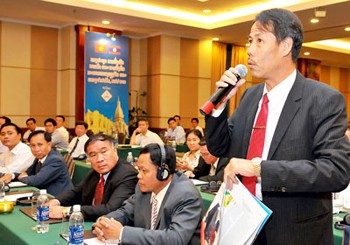 A Vietnamese investor at the seminar makes queries on the Lao market (Photo: SGGP)
On his part, Vientiane Mayor Soukanh Mahalath said that the capital city would regularly exchange experiences with HCMC to host large events and create advantageous conditions for HCMC investors.
Sonsay Siphandon, Champasak Mayor, stated that HCMC and Champasak have established close relations, contributing a lot to the socio-economic development of the province.
HCMC has so far nine projects in Champasak and now Champasak wanted more HCMC businesses to invest in the province, he said.
Le Hoang Quan, HCMC Chairman, said that there is a large potential to further boost trade and investment promotion and cooperation to develop tourism between the two countries.