Deputy Prime Minister of Lao presented the first-class Itsala Medal to General Le Van Dung, former chairman of the General Department of Politics of the Vietnamese People's Army, in Hanoi on July 21.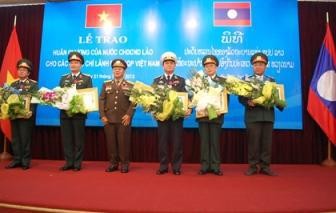 Laos bestows highest honors on Defence Ministry leaders of Vietnam.  (Photo:qdnd)
The Lao Party also conferred second-class honors on 11 leaders of the Vietnamese Ministry of Defence including senior lieutenant generals Do Ba Ty, Nguyen Khac Nghien, Nguyen Huy Hieu, Nguyen Van Duoc, Phan Trung Kien, Nguyen Van Rinh, Nguyen Chi Vinh, Truong Quang Khanh, Nguyen Van Hien, Le Huu Duc and Bui Van Huan.
The Itsala Medal is the highest award of the Lao Party and conferred for outstanding contributions made by Vietnamese leaders in training Lao army officers during the period 2005-2010.