Laos inaugurated Attapeu International Airport in the southern province of Attapeu on May 30 in the presence of Vietnamese President Truong Tan Sang.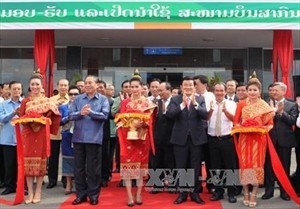 Vietnamese State President Truong Tan Sang (front. second from right) attended the inaugural ceremony (Photo: VNA
Attapeu International Airport has a total investment of 36 million USD funded by Vietnam's Hoang Anh Gia Lai Joint Stock Company. It was built by the Lao Government in two years from May 2013 under the build-transfer (BT) form.
The airport includes a 4,300 sq.m. terminal, capable of serving 300 passengers per day along with a 1,850m runway that can cater for ATR-72 and Fokker aircraft.
It is a key project in southern Laos which is of political and socio-economic importance to both the country and Vietnam.
At the inauguration ceremony, President Truong Tan Sang thanked the Lao People's Revolutionary Party (LPRP) and Government as well as Attapeu authorities for creating favourable conditions for Vietnamese projects as well as the airport construction in southern Laos.
He said the Attapeu Airport project illustrates the efficiency, practicality, and diversity of the two countries' economic ties, including the partnership between their business circles.
He also took this chance to ask Vietnamese companies to continue promoting their attainments by boosting business cooperation while supporting social activities in Laos, ultimately consolidating the special solidarity and friendship between the two neighbours.
For his part, LPRP General Secretary and State President Choummaly Sayasone hailed the Vietnamese leader's presence at the ceremony as an evidence for solidarity and special relations between the countries.
He highly valued Hoang Anh Gia Lai's efforts in shortly implementing and completing the project, which will help forge connection among domestic localities and between Laos and regional nations, thus enhancing their people-to-people exchange and economic and tourism collaboration.-VNA