The Lao Party and State want to do the utmost to ease the impact of the prolonged droughts and salinity in Vietnam's Mekong Delta, Lao Minister of Energy and Mines Khammany Inthirath told the Vietnam News Agency in an interview.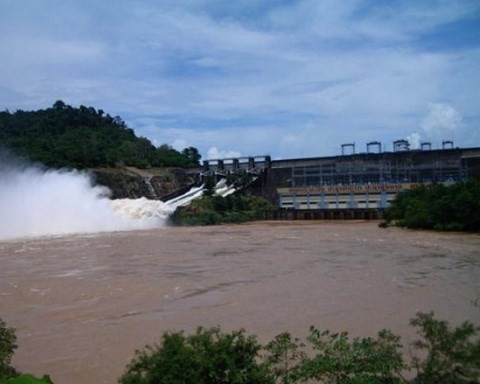 Illustrative photo (Source: VNA)
Laos started releasing water from its dam to help the lower Mekong River basin, including Vietnam's Mekong Delta region, mitigate the impacts of prolonged drought on March 23, according to the Minister.
The country is discharging a volume of 1,136 cubic metres per second from its four irrigational reservoirs to the lower Mekong River basin between March 23 and the end of May, the Minister said.
He pointed out that drought is also threatening Laos, saying that the level of water in the Mekong River passing through Vientiane has dropped to the lowest in the past 20 years.
Director of Nam Ngum 1 hydro power plant Buavanh Chansavath said the plant is releasing water around the clock, and the discharge of water will continue through May 30.
Drought and salinisation have seriously affected the lives of people in 10 out of Vietnam's 13 Mekong Delta provinces, with nearly 160,000 hectares of rice damaged and destroyed by the phenomenon since the end of last year.
Currently, China and Thailand are also supplying 2,254 cubic metres and 220 cubic metres per second, respectively, to the lower Mekong River basin, raising the total water discharge to the area to 3,610 cubic metres per second.
The water is expected to arrive in the Mekong Delta in the first week of April 2016.