Laos has much to learn from Viet Nam's socio-cultural development experience as it strives to fulfill the UN's Millennial Development Goals, said Lao National Assembly Chairwoman Pany Yathotu.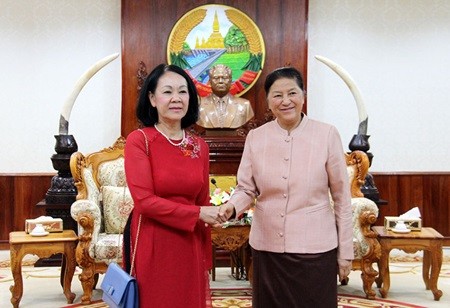 Lao National Assembly Chairwoman Pany Yathotu receives Head of the NA Committee for Social Affairs Truong Thi Mai (left) in Vientiane yesterday. (Photo: VNA/VNS)
Hosting a reception for Head of the NA Committee for Social Affairs Truong Thi Mai in Vientiane yesterday, Yathotu spoke highly of recent co-operation between the two legislatures.
She told Mai Laos is preparing to establish local People's Councils and is keen to learn from Viet Nam's experience.
Yathotu expressed her hope that the Viet Nam NA Committee for Social Affairs and Lao NA Committee for Cultural, Social and Legal Affairs would continue working together.
Mai informed her host of the outcomes of working sessions with the Lao NA Committee for Cultural, Social and Legal Affairs held in the morning on the same day. She also affirmed that the two sides would deepen bilateral ties.
Earlier the same day, Mai held a working session with Professor Phonethep Phonsena, head of the Lao NA Committee for Cultural, Social and Legal Affairs, during which they agreed to dig deeper into the specific co-operative contents of personnel training. 
During its stay from Sunday to August 8, the Vietnamese delegation is scheduled to hold working sessions with the Ministry of Health and the Pasteur Institute of Laos.
VN, Laos share expriences
Yesterday, delegates from the Government Inspectorate of Viet Nam held talks with counterparts from the Lao Government Inspection Authority in Vientiane as part of a five-day visit.
The Vietnamese delegation, led by Deputy Inspector General Tran Duc Luong, and the Lao team, headed by Deputy Inspector General Khamsuc Bouayvong, reviewed recent co-operation and shared experiences.
They also informed each other of their respective countries' socio-economic situations, anti-corruption efforts and inspection management in the first six months of the year. The agencies have maintained close ties over the last 20 years.
They affirmed that their relationship made Viet Nam's and Laos's inspection initiatives more practical and effective. It also helped the agencies complete political tasks and strengthened their more general co-operative efforts.
The two sides signed agreements in 1998, 2005, 2007 and 2012 while continuing exchange visits at all levels.
Viet Nam also helped train Lao inspection officials while helping the two countries' provincial-level inspection agencies in border areas set up and enhance co-operative ties.
Tightening co-operation
Meanwhile, a delegation from the Laos Supreme People's Court, led by Deputy Chief Judge Khampha Sengdara, is visiting Viet Nam from August 1 to 6.
Yesterday Sengdara was received by permanent Deputy Chief Judge of the Viet Nam Supreme People's Court Bui Ngoc Hoa, who said he believed that through the visit, the two sides would tighten co-operation and share experiences establishing an administrative court in the people's court system.
Hoa briefed his guest on administrative court regulations and the Administrative Procedures Code.
The Lao official said the Vietnamese court's experience would help Laos build its own code of administrative procedures and administrative court.
The officials said they hoped the two courts would continue scheduling visits and meetings among high-ranking leaders to share more lessons learned in the field.