Lao Vice President Buonnhang Vorachith yesterday led Lao high level delegation to visit Vietnam.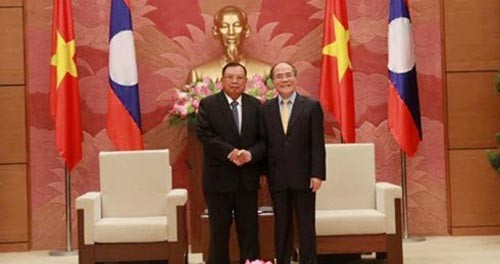 Chairman of National Assembly of Vietnam Nguyen Sinh Hung ( L ) and Vice President of Laos Buonnhang Vorachith. (Photo:SGGP)
Chairman of National Assembly of Vietnam Nguyen Sinh Hung had a warm meeting with Lao delegation at the House of National Assembly.
At the meeting, Chairman Hung stressed that the traditional ties of friendship, special solidarity, and comprehensive cooperation between the two countries are considered as a sound foundation for its good development in two sides' various fields.
Vietnam National Assembly will continue to create the best conditions to promote further good relationship between Laos and Vietnam; and be willing to share with Lao National Assembly about the new government's constitutional reform and support the Lao Government for chairmanship of ASEAN next year.
Lao Vice President Buonnhang Vorachith was on behalf of party, states and peoples of the Lao Democratic People's Republic thanked for helping of Vietnamese party communist, states and people in not only struggling on the country's independence but also building and development as well.
The vice president expressed his desire that both sides will continue to tighten further the relationship, and support each other in multilateral and bilateral forums.
Lao Vice president Buonnhang Vorachith congratulated Vietnam successfully to kick off the 132nd assembly of the Inter-Parliamentary Union (IPU-132).