Fishing villages in Central coastal provinces are enjoying a happy atmosphere, as if they were taking part in festivals. This is due an abundant catch of fish over the past few days. After a single fishing trip, a trawler can earn between VND100-300 million ($5720-17160), a figure that no local fisherman have ever dreamed of before.

Bumper catch of fish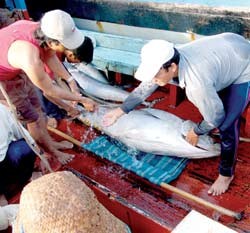 Fishermen in Phu Yen Province catch tunas
Tam Quan fishing port in Binh Dinh Province has been busy these past few days, as flotillas of fishing trawlers took turns sailing in and out. Boats arriving at the port have been full of fish while others are being fueled before going back to the open sea.

Normally, after a fishing trip, boat owners let the crew and fishermen rest for a few days before starting a new voyage. Yet, no fisherman wants to take a rest these days. Fishing boats set out again after the catch has been sold. The fishermen dedicate all their efforts to capturing as much fish as possible.

The same scenes can be seen in fishing villages in Song Cau and Vung Ro Districts of Phu Yen Province.

At Fishing Port 6, Tuy Hoa City, dozens of tons of tuna are traded every day while at the fishing villages in Tuy An and Song Cau Districts, the same volume of anchovy is sold to seafood processors or fish sauce plants.

In the fishing villages of Nhon Hoi and Phu Thuong, aside from enjoying a bumper catch of anchovy, fishermen have also caught a large amount of cuttle-fish and hairtail fish (Trihiurus muiticus).

Not only does this year's catch bring happiness to offshore fishermen, luck is also smiling on poor villagers living along the bank of Ba River, who depend on near shore fishing for their livelihoods.

By using a cast net, a fisherman can catch dozens of kilos of goby at night and earn some VND1 million, a kilo is sold at VND100,000.

At Sa Huynh fishing port in Quang Ngai Province, Nguyen Cu, owner of a fishing boat, revealed that his boat went out to the open sea three times during January and each time the boat returned with its hold full of various kinds of fish, including butterfish, mackerel, hairtail fish, flying fish and anchovy.

At present, a medium sized boat going out to the sea at night and returning the following morning can catch between two to three tons of anchovy, added Cu.

Fishermen earn fat profits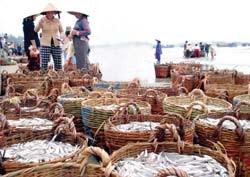 Fishermen in Ly Son Island of Quang Ngai Province catch more anchovy than usual
Tuna currently is sold at some VND100,000 a kilo, an increase of VND30,000 over previous years.

A fishing boat can earn big money if it catches between 30 and 40 tuna during a fishing trip. In recent days, many fishermen have been able to catch double or even three times as much.

Le Tan Khoa, owner of a 130 CV- fishing boat in Binh Dinh Province, said, "My boat usually catches just one ton of fish during a fishing trip. Since the beginning of the year, we have made two fishing trips. On each trip we caught two tons of fish. After covering all expenses, I've earned a profit of over VND200 million for both. Thanks to the profit, I've not only paid all my debts but also had some money to save.

"For those who own several boats," added Khoa, "they can earn as much as several billion dong a month."

The seafood processing industry in central provinces is enjoying a period of prosperity, too, thanks to the bumper catch of fish.

Twenty-eight seafood processing plants in Pho Thanh Commune, Quang Ngai, are operating at full capacity, attracting more than 400 female workers, while nearly 200 fish sauce manufacturers in Tuy An Commune in Phu Yen have created well paid jobs for many locals.

Concerns over traders squeezing prices

Although happy about the bumper catch, local fishermen in the region are worried that traders will squeeze them, a phenomenon that always seems to happen when there is a plentiful supply of fish on the market, particularly as there are no relevant authorities responsible for controlling the trading of seafood in the region.

According to local fishermen, seafood middle-men and traders join hands. They not only set the price of seafood themselves but also adjust them depending on the balance between supply and demand, leading to losses for fishermen.

Fishermen are hoping that local authorities will pay attention and create appropriate policies to protect their interests.