Large scale paddy fields have been developed slowly in Vietnam accounting for only 4 percent of total rice farming area, according to reports at a meeting hosted in Ho Chi Minh City on Tuesday by Ministries of Agriculture and Rural Development, Planning and Investment, and the Vietnam Cooperative Alliance.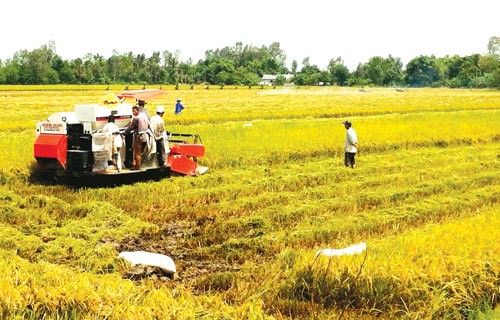 Large scale paddy fields account for only 4 percent of rice farming area in Vietnam (Photo: SGGP)
Only 11 percent rice area is under large scale in Vietnam's largest rice growing area--the Mekong Delta.
Some mountainous provinces such as Cao Bang and Bac Kan have yet to implement any project to develop this model or make any move to start it.
Both businesses and farmers have said it is very difficult to access loans to develop large scale paddy fields.
Deputy Minister of Agriculture and Rural Development Tran Thanh Nam said that production connectivity in chains and cooperative economy were trend to improve competitiveness for international integration.
However, 33 provinces have not implemented large scale fields while 23 provinces have yet to do planning on it because local authorities have lacked fund, relevant agencies have not carried out drastic measures, farmers associations have operated ineffectively.
Cooperatives and cooperative groups have failed to well organize production, manage farm produce's quality with advanced production process, and assist farmers to harvest and preserve their products.
Small and scattered rice farming areas and weak infrastructures have raised difficulties for businesses to mechanize production and build material zones.