A 15 meter stretch of Le Van Luong Street, the main route linking the center of Hanoi with Ha Dong District, suddenly sank after a heavy downpour on Sunday morning, subsiding almost two meters into the ground.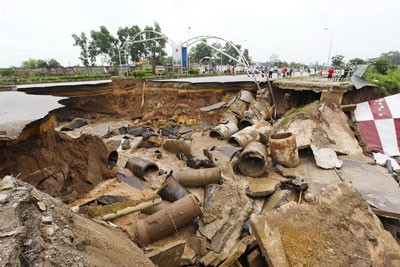 Stretch of Le Van Luong Street that subsided (Photo: SGGP)
This sudden sinking caused the entrance gate of the nearby Duong Noi new urban area to collapse.
Fortunately, there were no human casualties as the incident occurred in the early morning hours on a weekend, when only few residents travel on the street.
The street began to cave in at about 8am and later the area broadened to cover about 15 meters. Police and traffic inspectors have cordoned off the sunken stretch and are guiding traffic in the area to avoid accidents and congestion.
The 2.7 kilometer Le Van Luong Street had been built a year back and is still under a warranty period. The public has raised concerns on the work's quality and responsibility of the investor.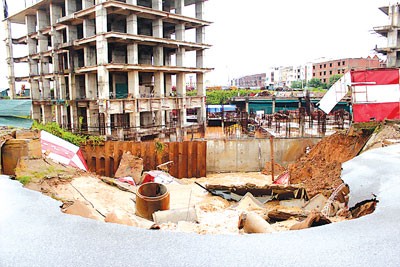 The section of the street that caved in was close to construction site of U Silk City apartment block (Photo: SGGP)
At a meeting hosted by the Department of Transport of Hanoi on Sunday to look into the issue, the department leaders said that the sudden subsiding of the road had been caused by construction of the nearby U Silk City apartment blocks, an investment project of Song Da-Thang Long Company.
The foundation of the above block of flats weakened the area along Le Van Luong Street and combined with heavy rainfall the stretch of road became more porous and eventually sank.
Department leaders have ordered Song Da-Thang Long Company to find measures to repair the street as soon as possible. All repair costs will be borne by the company.