An important bridge over the Hong (Red) River at a Vietnam-China border gate was inaugurated September 1 after three years of construction.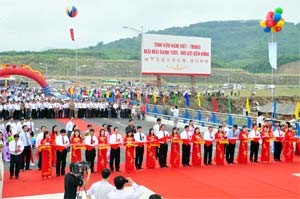 The inaugural ceremony on September 1 for a new bridge over the Hong (Red) River in the Vietnam-China border area (Photo: CPV Online Newspaper)
The bridge is the biggest in the northwest area of Vietnam and was a cooperation project between the two countries.
It was built by Thang Long Bridge Company I, at a cost of about VND130 billion (US$7.2 million).
The bridge, 295 meters long with four lanes for vehicles and two for passengers, connects the Kim Thanh Industrial and Trading Zone in Lao Cai Province with an economic zone in the Chinese province of Yunnan.

The bridge is scheduled to open to traffic on November 1, 2009.  
Speaking at the inauguration ceremony, Vietnamese Deputy Minister of Transport Ngo Thinh Duc said the bridge is an important connecting point on the North-South economic corridor in the expanded sub-Mekong regional cooperation program.
It also coincides with the AH14 route of the trans-Asian road system, he added.
The new bridge would open a new prospect for economic and trading relations between Vietnam and China's southwest provinces, he commented.