The electronics supermarket CK Plaza located in Quan Bau Ward in Vinh City (in the northern central province of Nghe An ) on Friday morning, burning down several goods and machines.
The fire occurred at about 11:45 am on Sep, 2nd that make hundreds of staff and customers rushed outside in panic.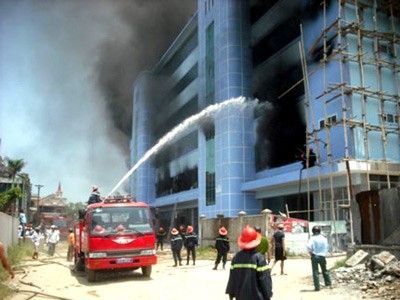 It takes firefighters about 3 hours to put out the fire
There were no immediate reports of damage and human casualties but the preliminary loss is ten of billions of VND. The 3rd and 2nd floor , where TV sets, air-conditioners, refrigerators …are sold have been totally damaged.
According to police, the fire broke out at the second floor of the building and quickly spread to other floors.
Though the fire brigade sent 16 fire trucks and a staff of 300 men, it took firefighters about 3 hours to put out the fire.
CK Plaza, with a trading area of 2,600 sq.m, is the largest electronics supermarket in the city. It is expected to open on September 2.
The Police are investigating the case.