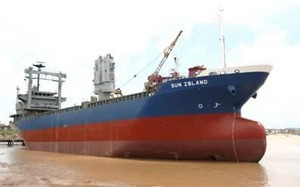 The 10,500-ton Sun Island cargo vessel built by Vinashin.
The Bach Dang Shipyard, a subsidiary of the Vietnam Shipbuilding Industry Corporation, delivered yesterday a 13,500 ton oil tanker to the Vinashin Lines.
The Vinashin Sea freighter measures 145.3 meters long, 20.8 meters wide and 11.2 meters high. It is equipped with a 5,180KW engine made in Denmark.
This is the largest oil tanker ever built in Viet Nam.