After one month at sea, the vessel Lissos, carrying over 1,000 Vietnamese evacuees from Libya, returned safely home to Cai Lan Port in the northern province of Quang Ninh yesterday morning.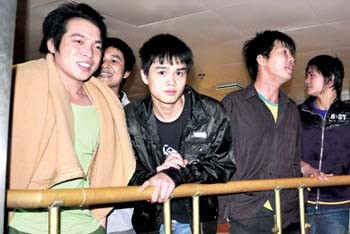 Last Vietnamese evacuees return home from Libya on April 4 (Photo: SGGP)
The vessel was earlier scheduled to arrive at Do Son Port, in the neighboring city of Hai Phong. However, it re-scheduled due to the low level of tidewaters in the port, making it difficult for the vessel to dock.
Nguyen Thanh Hoa, deputy Minister of Labor, War Invalids and Social Affairs and Nguyen Van Nam, deputy Minister of Public Security were at the port to welcome the evacuees.
Mr.Hoa said that his ministry would provide each worker with VND1 million to enable them to return to their hometowns and would work with businesses to get them jobs.
The ministry's Department of Overseas Labor said that these were the last 1,000 evacuees from the total 10,062 workers returning home from Libya.
Several of the workers who had returned to Vietnam earlier have already begun working in companies.
On the same day in Hanoi, the Vietnam Construction and Import Export Company (Vinaconex) received VND2 billion (US$95 million) from the Vietnam Cement Industry Corporation as donation for the evacuees from Libya. Vinaconex has successfully evacuated all its 4000 workers from Libya.
Related news: