The Police Agency of southern Binh Duong province has arrested more than 800 suspects following disturbances at industrial zones in the locality.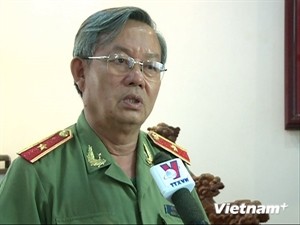 Director of Police Agency of southern Binh Duong province Vo Thanh Duc (Source: VNA)
Those people were investigated on charges of causing public disorder, appropriating and destroying assets and taking actions against on-duty officials, according to Major Vo Thanh Duc, Director of the agency.
Following legal proceedings, over 300 of them have now been found guilty of criminal violations that will be strictly punished under the law, he said.
The local authorities and police are doing all they can to protect the safety of foreign workers and assets belonging to foreign businesses, he said, stating that Vietnamese law protects all people regardless of nationality.
The police are intensifying measures to ensure security at industrial zones so that factories can operate normally while the authorities are providing a high level of assistance for businesses working in the province.
Duc said he has sent messages calling on youths and workers to show their patriotism in the right way. Any act that damages property is wrong as it affects workers' jobs and livelihoods.
Therefore, workers should not follow the words of rabble rousers to create disturbances, because in doing so they will become law breakers, he noted.
The same day, the province instructed agencies and localities to promptly implement measures helping businesses maintain their activities. Many businesses affected by the disturbance have already resumed their operations.
Meanwhile, police in the central province of Ha Tinh have also started legal proceedings against a public disorder case in the Vung Ang Economic Zone, arresting 76 people on charges of causing public disorder, destroying property and stealing assets.
Lieut. Colonel Nguyen Thanh Liem, Deputy Director of the provincial Police Agency, told a May 15 press conference that a group of people enticed the zone's workers to flood streets with flags and slogans opposing China's illegal placement of a drilling rig in Vietnam 's exclusive economic zone. Their parade resulted in a conflict with foreign experts and workers at the Formosa project.
Taking advantage of the situation, some people torched the houses of foreign workers and stole company assets, machinery and other equipment.
The province mobilised 600 police and military officers to disperse the crowds and take foreign workers to safe places, he said.
At present, the local authorities are still deploying forces to ensure security and order at Formosa, while implementing communication campaigns to urge people to exercise restraint and show their patriotism in a right and peaceful manner, he added.