The National Assembly's two-day question and answer session begins November 17 with the first official to take questions being the governor of the State Bank of Vietnam, Nguyen Van Giau.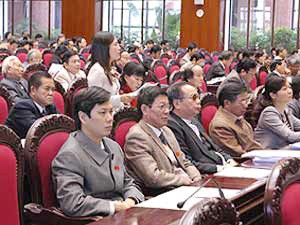 A view of the NA session on November 16. The legislature begins a two-day question and answer session November 17. (Photo: Nhan Dan)
Among the queries that have been sent to him for a reply are ones on the Government's 4-percent loan-interest subsidy policy.
Many deputies have said that farmers do not benefit from it since the procedures are complicated.
Nguyen Thi Tuyen of Hanoi has asked the governor to make clear "what the State Bank has done to oversee banks' implementation of the Government's stimulus package."
Some other deputies want the governor to explain why only 20 percent of businesses have been able to get the subsidized loans.
Pham Thi Loan of Hanoi complained that many importers had to buy US dollars from banks at VND400-500 higher than the official exchange rate by paying the difference through individual accounts or in cash without regular vouchers. 
She blamed this on what she called an "underground foreign currency market" existing in the banking system.
In the house, the governor will be followed by the Ministers of Information and Communications, Interior, and Industry and Trade.