National Assembly deputies debated a draft ordinance on royalties on mining and the Adoption Bill at an ongoing session November 3.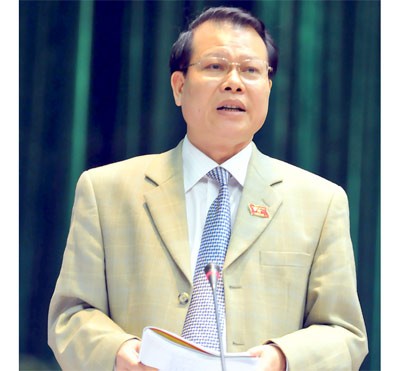 Minister of Finance Vu Van Ninh speaks at the National Assembly session on November 3
Most said the ordinance would improve the management of the country's natural resources, especially non-renewable ones, but added it should be easy to implement.
 
Nguyen Dinh Xuan of Tay Ninh Province and Nghiem Vu Khai of Dien Bien said, however, the proposed regulation would not ensure optimal exploitation and use of natural resources or environmental protection.
 
Mr. Khai, also deputy head of the NA Committee for Science, Technology and Environment, said: "The basis for calculating the tax … is inaccurate, weak and does not secure [every stakeholder's] interests."
 
Other delegates said existing tax regulations are ambiguous and the ceiling rates are unreasonable, adding that the taxes on some precious minerals that need to be protected are low while minerals of different values and rates of exploitation are bracketed together.
 
They said further that the tax band of 1-30 percent is too broad and leaves potential loopholes in the law.
 
Several deputies said the tax rate should be high enough to deter companies from squandering away non-renewable resources, warning reckless exploitation would exhaust the country's natural resources and shortchange the Government.
 
They, thus, wanted the drafting committee to set higher tax rates on non-renewable resources.
 
Nguyen Thuc Khang of Ba Ria-Vung Tau Province said some natural resources have been left out of the bill: like associated gas, which can bring modest revenues to the Government.
 
The gas should also be subject to tax, he added.
 
Trieu Sy Lau of the northern province of Cao Bang pointed out that the Constitution and Law on National Assembly Organization stipulate that only the house can decide matters relating to tax policy.
 
Only under special circumstances should the NA delegate the task to the Standing Committee, he said further, adding that the tax band should be narrowed and the resources that attract should be spelled out in detail.
 
Discussing exploitation of deep-sea marine resources, many lawmakers said fishermen should be exempt from the tax.
 
Tran Hong Viet of Hau Giang and Mai Thi Anh Tuyet of An Giang said the exemption would encourage fishermen to go offshore, helping protect the country's maritime sovereignty.
 
Minister of Finance Vu Van Ninh promised there would be amendments to divide natural resources subject to tax into smaller groups, narrow the tax band for each group, and waive tax on firewood cut for household use.
 
Adoption
 
Deputies, fearing the process of adopting a child and the procedures stipulated in the bill are too complicated, said justice departments should be exclusively in charge of the adoption issue.
 
Pham Phuong Thao of Ho Chi Minh City said establishing an advisory council and holding many meetings to approve adoptions are not required since justice departments can check and certify adoption documents.
 
Nguyen Minh Thuyet said there should be regulations to make sure adoptive parents do not abandon their child in future.
 
The law should particularly forbid parents from giving away their children in adoption so that they can have more, he said. He was referring to the fact that it is common in Vietnam for people to aspire for boys and some could be tempted to give away girls in adoption.
 
Deputy Minister of Health Nguyen Thi Kim Tien and other deputies said the stipulated difference in ages of 20 between an adopted child and its adopters is unsafe.
 
They said in case of different genders, the difference should be 30.
 
Lawmakers also discussed the adoption fee to be charged by the Government and said foreigners should have the same opportunity to adopt Vietnamese children as local couples.