The Standing Committee of the National Assembly (NA) began a two-day working session October 15 with debates on the Bill on Amendments, changes to taxes, and construction of the country's first nuclear power plant topping the agenda.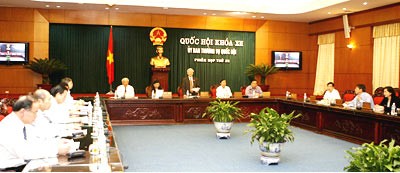 The opening of the 25th National Assembly Standing Committee session on October 15
After a short opening session, Minister of Finance Vu Van Ninh reported on the amendments to the Law on Value-added Tax and the Corporate Income Tax.
 
He said the VAT rate on projects to build housing for students, workers in industrial parks, and low-income people would be halved to 5 percent.
 
Developers would also enjoy a low corporate income tax rate of 10 percent, which would be waived for the first four years, he said, revealing it would continue to be reduced over the next nine years.
 
Phung Quoc Hien, head of the Financial and Budgetary Committee, said most of his committee agreed with the proposed amendments.
 
Some members at the working session said the Government needs to forecast the demand for housing from people covered by Government's policy to reward those contributing to the nation and the loss of revenue involved in providing tax breaks to developers.
 
Ha Van Hien, chairman of the Economic Committee, emphasized the importance of carefully drafting the policy.
 
"It should really help those who need help, particularly the poor, not the enterprises," he said.
 
He also said that the Government should offer tax breaks to firms operating in disadvantaged areas.
 
Tran The Vuong, head of the Ombudsman Committee, expressed concern that the policy may not benefit the target groups.
 
"Looking at the houses built to resettle residents [whose lands are acquired for public works] in the past, clearly many residents there are not the ones who had to give up their lands," he said.
 
Dao Trong Thi, chairman of the Committee for Culture, Education, Youth and Children said: "Many so-called low-priced houses are not really cheap. People who afford them are not poor."
 
Developers should take students' needs into consideration before designing the buildings, he added.
 
Another tax issue to be discussed was the import-export tariff regime and the changes proposed to some commodities, with deputies showing much concern about fish.
 
In its appraisal report, the Financial and Budgetary Committee agreed about the necessity to adjust tariffs in light of the economic downturn.
 
The Government has suggested reducing import tariffs on some kinds of fish to 0-26 percent and 0-27 percent from the current 10-26 percent and 10-27 percent.
 
However, some members said the change from 10 percent to zero was too extreme, warning it would affect the seafood processing industry.
 
Phung Quoc Hien said the zero import tariff on seafood would lead to an increase in imports. "This will have a negative impact on the fisheries sector, seafood consumption, and the life of fishermen," he warned.