Solicitations for employment and promotion at official agencies remain a chronic problem in the absence of effective preventive measures, legislators complained to Minister of Interior Tran Van Tuan at the National Assembly November 18.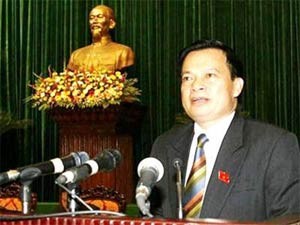 Interior Minister Tran Van Tuan speaks at the NA question and answer session in Hanoi on November 18 (Photo: VNA)

Speaking at the ongoing question and answer session, Le Van Cuong of Thanh Hoa Province said though he had raised the issue at the previous NA session, the situation has not improved.
Likening nepotism to a cancer, he said while there are many people with doctorates, about 30 percent of them are of "poor quality" but still manage to be employed and promoted.
"I was even told by many people that the solicitation is a form of 'investment.' What do you think about it?" he asked the minister.
Mr. Tuan admitted the problem existed but said it was difficult to eradicate it since people soliciting for candidates usually try to convince agencies of their strengths.
Therefore, to stamp out the problem, the procedures for hiring, training, promotion and others must be re-examined and followed scrupulously to replace unqualified officials, he said.
Mr. Cuong and several other deputies said not only do the procedures need to be tweaked, but also civil servants' qualifications must be reconsidered.
 
Nguyen Huu Phuoc of Ben Tre Province asked: "Everyone knows that the problem is hard to resolve, but is it possible our legal system is resigned to such solicitation?"
In response to Dang Nhu Loi of Ca Mau Province, who complained that only a third of all public officials are hard-working, Mr. Tuan admitted the need to improve efficiency of State agencies but said annual staff appraisals show 90 percent of civil servants do their jobs well. 
At the conclusion of the session, the house's chairman, Nguyen Phu Trong, asked the Interior Minister to assess the situation and initiate measures to improve the process of hiring and promoting civil servants.