NA deputies on May 28 discussed proposed amendments to the Housing Law and Land Law and debated bills on cinematography and cultural heritage.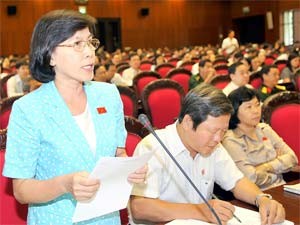 Ms Pham Phuong Thao, chairwoman of the HCM City People's Council and a National Assembly deputy, speaks in the House on May 28 (Photo: SGGP)
At the fifth session of the 12th National Assembly, the House Economic Committee approved a Government proposal to unify the house ownership deed and land-use rights certificate into one document.
With regards to the Land Law, the NA will abolish one article, amend four others and make technical adjustments to another 26.
It will also cancel 13 articles and make technical adjustments to 16 others in the Housing Law.
Regarding separate certification of houses or other properties associated with land, members said such certification is not compulsory and should only be done at the demand of property owners.
The Committee agreed to a proposed regulation that the Ministry of Natural Resources and Environment should be responsible for issuing the house ownership cum land-use right deed.
People's committees of provinces, cities, and districts will also be authorized to issue this document under the proposal. 
Bidding for public works
Deputies gave their opinions on a decree issued in 2000 that states that contractors for public works can be appointed without bids for packages valued under VND1 billion in case of procurement of goods, construction, and installation, and under VND500 million in case of consultancy.  
They said these limits have not been reconsidered and amended in the Bidding Law, which merely stipulates that the limits will be decided by the Government.   
The Committee agreed that in the long run, competitive bidding should be used more often and though in the current economic climate, the Government needs more control over bidding to stimulate investment.
If passed by the NA, the bill will come into effect on July 1 this year.
Control over cultural relics
Discussing amendments to the Law on Cultural Heritage, deputy Nguyen Huy Can of Ho Chi Minh City said intangible cultural values like the Hue royal music, quan ho (love duets), and cai luong (reformed theatre) are falling into oblivion.
Therefore, the law should include provisions spelling out the responsibility of agencies tasked with protecting these intangible cultural values, he said.
It is unreasonable to continue with the existing regulation that the Ministry of Culture, Sports and Tourism can issue regulations for conservation, repair, and recovery of cultural relics, Huynh Thanh Lap of HCMC said.
He said chairpersons of provinces and cities should be assigned the task, and they must make annual reports to the central government on the situation of relics.
Pham Phuong Thao, chairwoman of the HCMC People's Council and a NA deputy, said conversation of cultural relics should be decentralized to provinces and cities since the ministry cannot manage so many relics at a time.
Discussing the amendments to the Cinematography Law, many deputies voiced concern about the content of films shown on television.
"There are 200 TV channels, many mainly showing films, but control over their quality has yet to be paid attention," Ms. Thao said.
A proposed regulation that Vietnamese-made films should make up 30 percent of total time of film broadcasting on TV has resulted in a rush to make films, affecting quality, she said.
"I know about a 45-minute film that was made in a mere two days," she said.
"It is hard to believe such films can be of good quality," she added.