Most National Assembly deputies refused to approve amendments made to the laws on Value-Added Tax (VAT) and Corporate Income Tax at an ongoing house session November 5, saying they leave potential loopholes and do not ensure development of public housing.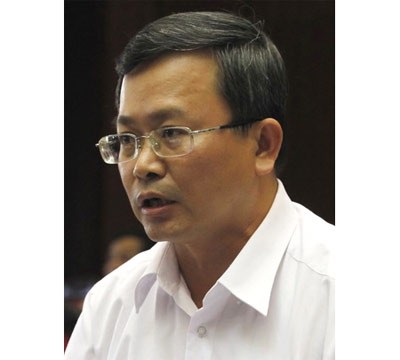 Deputy Nguyen Trung Nhan of Can Tho City speaks at a National Assembly session on November 5 (Photo: TT)
Some said policies and measures like tax, land, and credit incentives are needed to develop social housing.
Under amendments, construction of housing for students, industrial-park workers, and low-income earners will be subject to 5 percent VAT instead of the current 10 percent.
Developers will also enjoy a lower income tax rate of 10 percent, tax exemption for four years, and lower rates for the next nine years.
These regulations are nominally aimed at encouraging investment in public housing.
But Nguyen Thi My Huong of Da Nang Province said since there are no norms for defining low-income earners, it would be hard to identify them.
Reducing the income tax rates also goes against the strategy of reducing the number of categories benefiting from tax breaks by 2010, she said.
Firms could take advantage of loopholes to transfer profits from preferential projects to others, depriving the Government of revenues, she said.
"The bills don't satisfy the aim of improving the lives of workers, students and poor people," Ms Huong added.
Dang Nhu Loi of Ca Mau Province said Social housing policies have to be long-term, and support should be given directly to eligible buyers, rather than help housing developers.
Nguyen Trung Nhan of Can Tho said: "The amendments are unnecessary. The proposed tax reductions may not even encourage enterprises to invest in social housing."
Ngo Van Minh said a so-called "social" house goes for VND300-500 million, an amount a low-income earner cannot afford, even after working all their life.
Nguyen Van Thoi of Thai Nguyen Province said policies on developing public housing have to dovetail with land, tax, and credit policies.
Tran Du Lich of Ho Chi Minh City said tax reduction alone would not encourage investment in social housing, pointing out that land prices are very high and this issue needs to be focused on.
The bills cannot help reduce the cost of public housing when land prices are high, he said.
The bills can be passed after provisions relating to land prices, tax, and credit are considered and there are regulations and mechanisms to closely monitor the allotment of public housing, Mr. Lich said.
Deputies also called for separate measures for each group eligible for public housing. For instance, they said, schools should be provided money to build dormitories for students, enterprises should be funded to build housing for workers, and low-income earners should be provided loans to buy houses.