Embracing policies to remove difficulties in the economy, surplus stock, and instability in the financial system and the stock market were the main issues discussed yesterday at the ongoing 13th National Assembly in Ha Noi.
Talking over of the country's socio-economic and State budget in 2012 and plans for 2013, deputies said the Government should declare comprehensive measures and policies to promote the economic restructuring process and reform of growth models.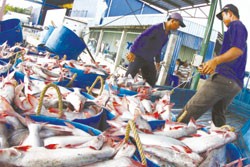 Workers transport fish to processing by the Bien Dong Fisheries Co in the southern city of Can Tho. Policymakers are giving priority to reducing surplus stock and bad debts (Photo: VNN)
Deputies also agreed the Government should continue to control inflation, macroeconomic stability and flexibility in monetary policy management.
They felt priority should be given to helping enterprises reduce surplus stock, handling stagnant debts from state invested projects, and speeding up the disbursement process of State budget capital projects.
"Bad debts are like clotted blood that are blocking the circulation of the economy and killing businesses" said Tran Du Lich from HCM City.
Lich urged the Government to find solutions to warm up the frozen property market, one of the main contributors to bad debts.
He also proposed the establishment of a National Economy Restructuring Committee under the Prime Minister to foster the restructure and modernisation of enterprises.
Tran Ngoc Dang from Binh Duong said to resolve bad debts, the country should not only look to the domestic sector to buy them up, but also further afield to international organisations.
Dang said as many as 100,000 apartments worth VND 70 trillion (US$3.6 billion) were vacant, which was eating up investors' capital.
"Measures are needed to encourage consumption in these fields through the expansion of consumption markets domestically and abroad."
He said bad debt was high in many industries, including plastics, processing, tobacco and heavy industries like cement, steel and manufacturing.
Agreeing with Dang, Duong Hoang Huong from Phu Tho urged the Government to embrace measures to solve bad debts, the main obstacle facing the economy. However, State Bank Governor Nguyen Van Binh said he could not promise to resolve the bad debts soon as it required synchronous co-ordination among relevant ministries and authorities.
"I can not promise to handle the bad debt right now but I will try to reduce it to under 3 per cent by 2015 as planned," Binh said.
Concerning high inventories, Trade and Industry Minister Vu Huy Hoang said the level of inventories had been reduced and would return to normal by the end of this year.
Hoang said in October, inventory levels in the processing sector had reduced to 20.3 per cent from 34 per cent in June, even lower than the 21 per cent in 2010.
"High inventories remain in the steel, coal, fertiliser and cement sectors, with million tonnes still in stock ," he added
Hoang said businesses should not only focus on how to free up their inventories, but also how to keep the momentum of production in 2013," Hoang concluded.
Next year, the Government is aiming for GDP growth of 5.5 per cent, a CPI increase of 7-8 per cent and a trade deficit at roughly 8 per cent of total export turnover.
The budget deficit is aimed at below 4.8 per cent of the country's GDP, with 1.6 million jobs created and the national poverty rate falling by 2 per cent.