The National Assembly passed the 2010 budget on November 11 with an 84.58 percent vote in favour, but most members wanted the deficit pruned.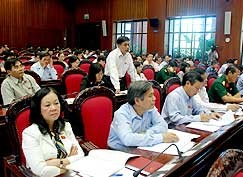 At its session on November 11, the National Assembly passed the 2010 budget with a majority of votes in favour. (Photo: Nhan Dan)
The budget targets revenues of VND462.5 trillion (US$25.88 billion), or about 23.9 percent of the country's GDP.
With spending estimated at VND582.2 trillion, the deficit will be VND119.7 trillion, or 6.2 percent of GDP.
Many deputies wanted the Government to make efforts to increase revenues and ensure spending is efficient to reduce the deficit to below 6.2 percent of GDP next year and continue reducing it in the following years.
To achieve this, the Government should take measure to improve tax collection and crack down on tax evasion, they said.
They also called on the Government to stop offering tax waivers under Resolution 32 issued by the NA last June.