The 11th Lawrence S.Ting Scholarships were given 512 scholarships to poor and disadvantaged students from 33 highschools, colleges and Universities across over the country, worth VND 4.6 billion.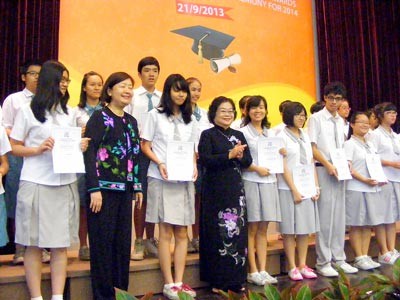 Ms Truong My Hoa awards scholarships to students of Dinh Thien Ly School(Photo: SGGP)
The Lawrence S.Ting Fund donated more than VND4.4 billion to charities and other associations.
Through the program, 4,260 poor and disabled children, and of ethnic groups were granted scholarships.
The program is aimed to encourage disadvantaged and hard working students to study in high schools.
From 2006 until now, Phu My Hung Corporation and Lawrence S.Ting Fund has annually sponsored many such scholarships.
At ceremony organized at Sai Gon Exhibition & Convention Center on September 21 was welcomed the attendances of Ms. Truong My Hoa, former Vice President of Viet Nam; Ms. Tran Thi Ha, Deputy Minister of Home Affairs; Phu My Hung Company and representatives of the Central Trading & Development Group.