Party General Secretary Nguyen Phu Trong said on Wednesday that more efforts must be made to promote the national movement of "studying and following President Ho Chi Minh's moral examples" during a national conference assessing one-year since the implementation of the Instruction No. 3 by the Politburo of the Communist Party.
At the meeting, delegates agreed that government offices and the people at all levels must continue embracing the national movement to follow in Uncle Ho's footsteps. They also discussed good initiatives and effective ways to encourage the public to follow Uncle Ho's moral examples.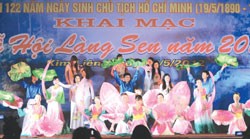 An art performance at the 2012 Sen Village Festival organised in Kim Lien Commune, Nghe An Province. The event in President Ho Chi Minh's homeland is part of celebrations for his birthday (May 19). — VNA/VNS Photo Minh Duc
Speaking at the event, Trong stressed the importance of the movement at a time when the country will celebrate Uncle Ho's 122th birthday tomorrow (May 19) and the current implementation of the Party Central Committee's resolution on Party building.
The Party leader reaffirmed that people must continue to follow the examples of Uncle Ho's modest living style, keeping the examples of his morals and spirit alive.
He said that agencies and sectors at all levels had launched the movement in daily life and at work, thus educating and improving the morality of all civil servants and state workers.
However, he said that the implementation of Instruction No. 3 continued to be slow and that all sectors and provinces needed to continue studying the morals set by Uncle Ho and practising them in their daily activities.