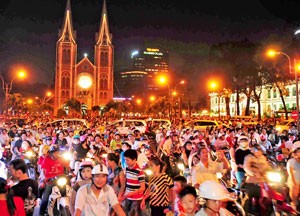 Ho Chi Minh City dwellers in front of the Notre Dame Cathedral on Christmas Eve (Photo: SGGP)
Vice State President Nguyen Thi Doan has reaffirmed respect for Catholics as part of the nation and pledged favorable conditions for religious people to practice their beliefs.
Doan made the statement and extended best wishes to clerics and followers of the Bui Chu diocese in the northern province of Nam Dinh on a Christmas visit on December 24.

"Catholics have made considerable contributions to the national defense and construction. The State has always tried to provide the best available conditions for religious people to practice their belief and contribute more," said the Vice State President.
She also called on bishops, clerics and Catholics to uphold the tradition of living the gospel amid the nation, follow God's Teaching and abide by the State policy and law, thus making the country prosperous and mighty.
On behalf of almost 400,000 parishioners and clerics, the Bishop of Bui Chu diocese, Hoang Van Tiem, expressed thanks to the Party and State for promoting freedom of belief and religion.
He also pledged to contribute to the Catholic community development as well as to the national construction.
Doan concluded her tour of the Bui Chu diocese with a visit to its orphanage, which has sheltered thousands of parentless children for 157 years.
Also on Christmas Eve, Deputy Prime Minister Truong Vinh Trong paid courtesy visits to Cardinal Pham Minh Man, Archbishop of the Ho Chi Minh City Archdiocese and pastor Thai Phuoc Truong, Head of the General Confederation of the Protestant Church of Vietnam (southern region).
In the meeting with Cardinal Man, Trong called on the Catholics and followers of other religions, including Buddhism, to respect and strengthen national unity and join hands in national development.
The Cardinal expressed thanks to the Party, State and Government, especially State President Nguyen Minh Triet and Prime Minister Nguyen Tan Dung, for their attention to religious development.
He happily recalled the recent meeting between President Triet and Pope Benedict XVI in the Vatican, saying that he expected the two sides will establish official relations soon.