Vietnamese Party and State leaders January 18 paid their pre-Tet visits to some provinces in the central region and the Central Highlands, where they called for more efforts to boost socio-economic development.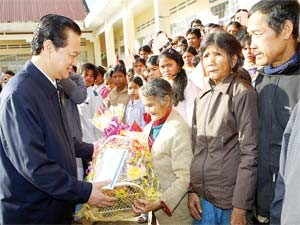 PM Nguyen Tan Dung (L) gives a Tet gift to an elderly lady in Dak Long commune, Kon Tum Province (Photo: SGGP)
In the central city of Da Nang, Party General Secretary Nong Duc Manh gave his New Year wishes to the local Party committee, authorities and residents.
He highly appreciated the city's achievements in 2008 and asked it to boost administrative reforms and adopt economic stimulus packages to further develop its socio-economic development, making the city a pivotal economic hub of Central Vietnam.
He also visited Fifth Military Zone headquarters, based in the city, where he praised efforts by soldiers in maintaining political security and social order and contributing to the city's development. He called on them to continue being on high alert against sabotage by enemies.  
In Quang Tri province, the general secretary had similar greetings and wishes for local authorities and residents. He offered flower wreaths and incense at the Truong Son Martyrs' Cemetery, Road 9, the ancient citadel of Quang Tri, and the Memorial House of late General Secretary Le Duan. 
He gave Tet gifts to heroic mother Phan Thi Uy and army hero Tran Huu Thuy.
Prime Minister Nguyen Tan Dung paid a working visit to Kon Tum province, as part of his tour of the Central Highlands region.

The PM asked Kon Tum to exploit its advantages and fully tap its potential to boost socio-economic development.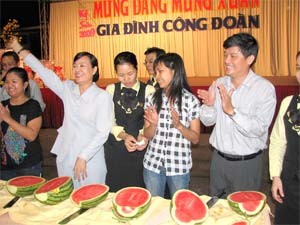 HCMC deputy Party chief Nguyen Van Dua (R) joins a Tet feast with workers at the Labor and Culture Palace (Photo: SGGP) 
The province should focus all efforts on expanding industrial and agricultural production, generating more jobs, maintaining economic growth and social cohesion, and protecting the ecological environment, he said.

In HCM City, Huynh Dam, Chairman of the Central Committee of the Vietnam Fatherland Front, visited and presented Tet gifts to 13 poor and Chinese families, in districts 5, 10 and 11. He also visited some families of heroic mothers.

The same day also saw a festival, 'Welcome Spring, Welcome Party,' held by the HCMC Labor Federation in the HCMC Labor Culture Palace.

The event, including folk games, a karaoke contest, music show and buffet, was attended by 1,200 workers who could not afford to return home for Tet.

Attending the function was Nguyen Van Dua, Permanent Deputy Secretary of HCM City Party Committee, who gave his New Year wishes to workers and presented them with gifts.

Meanwhile, deputy chairwoman of the city's People's Committee, Nguyen Thi Thu Ha, paid a visit to the Tan Tao Industrial Park, where she gave 200 Tet gifts to poor workers. Hau Giang Pharmaceutical Company supported the purchase of these gifts.